Augmented Reality for Marketing Solutions companies.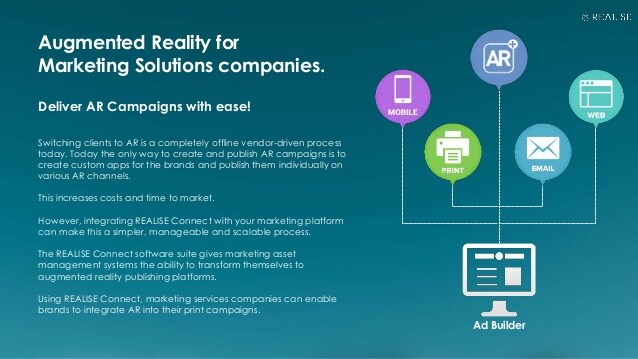 Deliver AR Campaigns with ease!
Switching clients to AR is a completely offline vendor-driven process today. Today the only way to create and publish AR campaigns is to create custom apps for the brands and publish them individually on various AR channels.
This increases costs and time to market. However, integrating REALISE Connect with your marketing platform can make this a simpler, manageable and scalable process. The REALISE Connect software suite gives marketing asset management systems the ability to transform themselves into augmented reality publishing platforms. Using REALISE Connect, marketing services companies can enable brands to integrate AR into their print campaigns.
Ad Builder
How REALISE Connect works?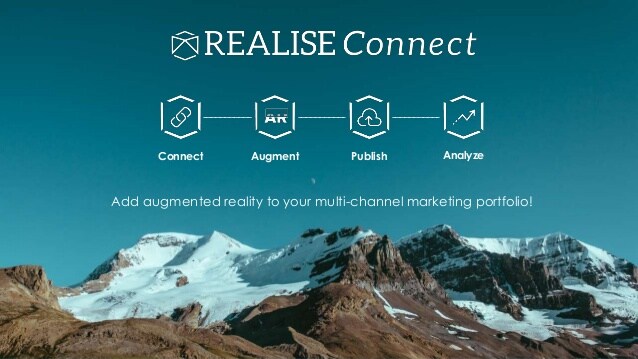 Connect
REALISE Connect has the ability to integrate with any Content Management System and marketing management system. Using javascript APIs REALISE Connect fetches print and digital content which can be packaged for AR channels.
Augment
The REALISE Connect platform comes equipped with an AR content editor that allows users to design different types of augmented reality interactions. Using the AR content Editor, users can easily add video, HTML, audio, social media and 3D interactions which can be viewed after scanning using mobile phones.
Publish
Once the AR interactions have been designed using the AR editor, the AR publisher packages the information into formats that are acceptable to AR channels like Junaio, iOS apps, Android apps & wearables like Google Glass.
Analyze
REALISE Connect's analytics APIs make AR campaigns measurable and trackable. Brand Managers can capture insights about the user interactions designed by them.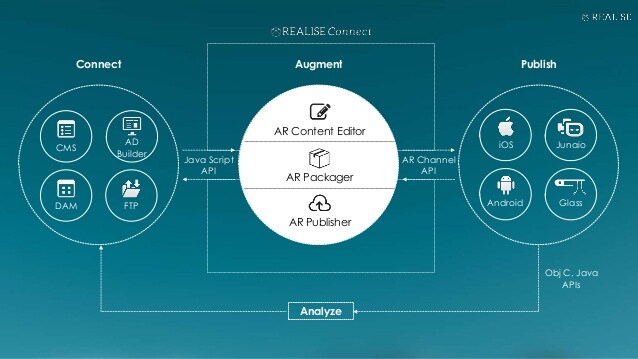 Get started with REALISE Connect now
Whatever your business needs and company size, we have the right package for you.